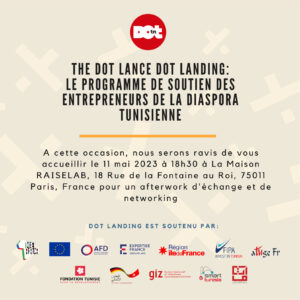 Lancement du programme de soutien aux entrepreneurs de la diaspora tunisienne en France : The Dot Landing
Dans le cadre du Programme DOT Landing mis en place dans le cadre de l'assistance Technique du programme MEET Africa en Tunisie, et en partenariat avec la Région Île de France, la Fondation Tunisie pour le Développement, l'ATUGE et la FIPA, The DOT organise une série de 4 sessions d'information en France, afin d'informer et d'inspirer la diaspora sur les opportunités et les ressources qui leur sont offertes en Tunisie et les défis auxquels ils peuvent faire face dans la création de leurs entreprises. Ces rencontres visent également à créer une communauté engagée de la diaspora tunisienne.
Ces rencontres, en format Afterwork, aborderont tous les aspects de l'écosystème entrepreneurial en Tunisie avec des intervenants différents dans chaque session. Elles permettront de :
Fournir à la diaspora une compréhension approfondie et claire du paysage entrepreneurial en Tunisie et de la manière dont elle peut s'y retrouver ;
Donner de la visibilité au programme et fournir un aperçu des objectifs et des composantes du programme ;
Susciter l'enthousiasme et l'intérêt de la diaspora à la création de projets dans leur pays d'origine.
SAVE THE DATE ! Premier rendez-vous le 11 mai 2023 à 18h30
Lieu : La Maison RaiseLab, 18 Rue de la Fontaine au Roi, 75011 Paris, France
Modalités de participation : sur inscription FORMULAIRE D'INSCRIPTION
Contact : hichem.radoine@expertisefrance.fr